For information on App Setup and Pairing with IQbuds2 MAX, please click HERE.
After the pairing screen, you will be presented with different options based on what software version your phone is running.
iPhones with iOS 13 and above will allow you to pair in the app. You will be shown a pop-up message asking you to pair, like this: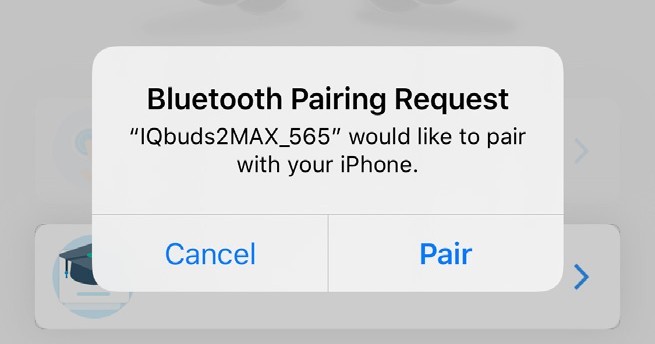 *IQbuds2MAX_XXX All IQbuds have a unique three-letter/number code
Tap "Pair", and you will be able to proceed through the app to complete the process.
If your iPhone is on a software version lower than iOS 13, you will be asked to leave the app, go to Bluetooth settings and connect to your IQbuds2 MAX there, see below:
Please go to Bluetooth settings and make sure Bluetooth is on. Find the name that matches on the left (XXX represents a unique code).

Once IQbuds2 MAX is connected, return to the app to continue the process. When back in the app, you will be shown the Bluetooth pairing pop up message, tap "Pair".
If you are unsure of your phone software version, please go to:
Settings > General > About >
There will be an item called "Software Version", and the version number is displayed next to it.